Initial Pinch Plate Rolls
Double Pinch Plate Rolls
High Speed Automatic Rolls
Hvac and Duct Manufacturing Equipment
Other Roll Forming
Machinery & Equipment
CORRUGATED SHEET ROLLING MACHINE
MADE BY COMAL ITALIA
---
CORRUGATED SHEET ROLLING
Riveted corrugated steel tanks and agricultural silos are typical applications of formed sheet passing through the machine. The design is specific because the requirement was for the machine to bend a corrugated sheet, which has a much larger section modulus (measure of stiffness) than the plane flat sheet. Thus, all the bending rolls have slide blocks at their ends, sliding in guide-ways and are driven in translation via worm and pinion gear boxes. The rotation to the synchronized gear boxes is provided by hydraulic motors
---
---

WELLE

---

The WELLE is basically a four roll double pinch machine. It was specifically designed for bending corrugated materials in steel and aluminum, up to 8mm (5/16") thick. Corrugated steel is mainly rolled for tanks, drainage pipes and highway safety rails. There is no standard model of Wella. These are built per customer requirements. The same control options are available with this line as that for the Alpha, Kappa and Beta lines

view details>> pdf version
---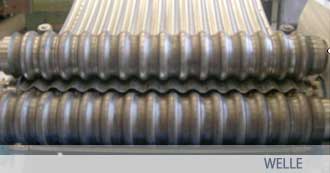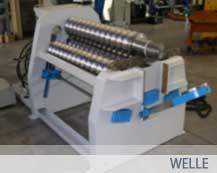 WELLE comes with all hydraulic power. A Separate Standing Controls Console on rollers with all solenoid valves. The rolls are shaped to match the wave of the corrugated sheet being bent and they are hardened to HRC 54-56.
---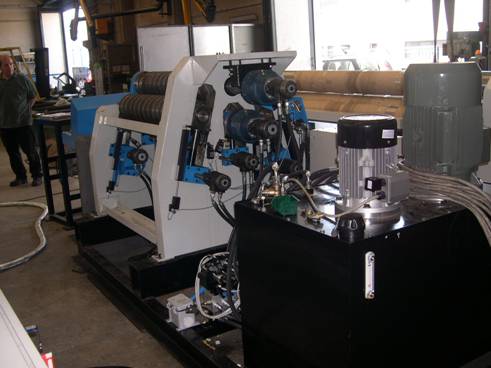 The frames are from high strength steel, laser cut, welded, stress-relieved, sand blasted and then precision machined. Top and pinching rolls are driven by independent hydraulic motors. Raising and lowering of the pinching roll is also accomplished by hydraulic motor/ worm and pinion gearboxes. The drop-end is manual, the hydraulic version is optional. Hydraulic units are by Roxroth and the valves by Aron. All electrical components are GE or equivalent mounted in a NEMA 12 equivalent box with master breaker and line fuses
---
Roll sets with American and European corrugated steel sheet wave forms have been used on the Welle. The most popular European wave is the 76mmX18mm with thickness ranging from 0,5mm to 2,0mm.
American wave forms of 2.667" x 1/2" and 3" x 1", 0.034"- 0.168" thick.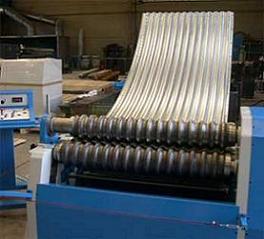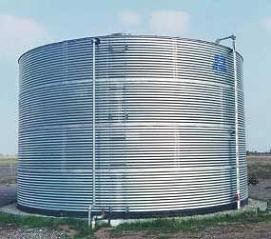 Each Welle is made to customer requirements of width, wave size, material used, the thickness used and the radii which need to be rolled. So as such, there are no specifications of standard sizes. Please contact our sales department for optimized selection and discussion of the WELLE which will perform well for you and meet your expectations.